Good Relations:  Ashton Gardens
Wedding Videographer Dallas Recommends Ashton Gardens to DFW Metroplex Brides
Where will we have our wedding? It's one of the first things a newly engaged couple has to consider, because venue determines other things, like budget and theme.
A destination wedding requires spending money on travel expenses, but there are usually fewer guests and the feel of a wedding on a beach is very casual. A wedding in a church may be free if it's your home church, but the ceremony is likely to be more formal and if you have a large guest list, you'll be spending a lot on your reception.
Some brides know, long before the planning process begins (often before they've even found their groom), exactly where they want to be married. Others don't have a clue. If you're unsure of where you want your wedding to be, we'd like to recommend visiting Ashton Gardens.
A Beautiful Chapel
Behind the Ashton Garden's chapel is a densely wooded forest. To take advantage of this view, three walls of the chapel are glass. A ceremony in this chapel is like an outdoor wedding without having to worry about the chance of rain.
But the view's not the only thing to love. The chapel with its arched beams and ivory pews is a canvas a bride can paint anyway she wants or she can keep it simple with attractive décor provided by the facility.
A Gorgeous Reception Space
Imagine being announced as Mr. and Mrs. and then sweeping down a curved staircase lit by crystal chandeliers into a room full of brocade chairs and white linen tablecloths. Sounds elegant doesn't it? You can just see the silver gleaming and smell the aroma of a delicious catered meal, right? That's the Ashton Gardens experience and the reception space is just steps away from the chapel. And pleasant steps they are, because the grounds and gardens of Ashton Gardens are perfectly manicured.
Ashton Garden's reception space is bride-ready. The dance floor is there and the room is stunning. All you need to do is choose your menu and invite your guests.
It's in There
You might call Ashton Gardens the Prego of wedding venues, because pretty much whatever you're looking for, "It's in there," just like the old spaghetti sauce ads used to say.
Need separate rooms for the bride and groom before the wedding. It's in there. The bride's room is well-appointed with plenty of light, lots of mirror and space to spare. Right outside is a place for the bride's family to congregate without cluttering up the dressing room. The guys have their own nicely turned out room, close to the reception space.
Need a balcony for your ceremony for your videographer and musicians? It's in there.
Need a holder for your unity candle? It's in there. Need a table for your favors? It's in there. You name it – it's in there.  You'll love Ashton Gardens weddings.
One Number Does It
Your wedding is just days away and you need to make some calls. You need to call the wedding chapel to discuss some last minute changes with the day of wedding coordinator, contact the company handling the sound and lighting, check with the rental company for all those tables, chairs and candelabras and give the caterer a final head count. If your wedding is at Ashton Gardens, then all those calls become one call to (940) 498-4273.
Why We Love It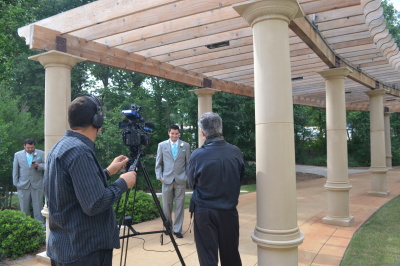 We do weddings all over North Texas and each venue has its own assets. However, we do particularly enjoy weddings at Ashton Gardens, for reason such as these:
• Only one set up and take down.
• The loft in the chapel is convenient
• The bride's room large enough to accommodate our camera without being disruptive
• A lovely trellis and gardens for outdoor shots
• Stunning background for ceremony and reception
• An attractive room for the groom's party for pre-wedding shots
• Plenty of electrical outlets where we need them and a good sound system
For us, the number one attraction at Ashton Gardens is the Day of Wedding Coordinator. There's no question of who's in charge. If we have a problem, it gets taken care of. If things change along the way, we know about it before it happens. When the logistics are easy, then we can focus more of our energy on the creative part of our job and that's the part we like best. They even feed us!
We Sweat the Small Stuff So You Don't Have To
Wherever your wedding is, we're ready to make your wedding video. We have the experience and equipment to capture your special day. No matter what happens on your wedding day, good or bad, you're going to love your wedding video from LeniCam Video Productions. So call us now at 972-378-0446 or email info@lencam.com to set up your videography appointment.