See what 
Dallas Area Newlyweds 
are saying
about their
in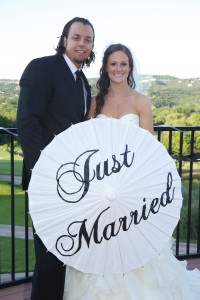 From Dara & Bisi – "John Lenihan (LeniCam Productions) is a great videographer, possibly one of the best you can get in the Dallas area. I rarely write reviews but after experiencing much satisfaction from John's work and seeing how much our families love our wedding videos, it will be a disservice not to review John's work for the great job he did at my wedding. Nothing makes a groom happier than professional service that keeps your bride happy all through your wedding day and yes, my wife and I were both delighted at John's services on our wedding day. A number of reasons make John's services awesome:  
1. Diverse experience: We are Nigerians and we wanted a videographer who would capture all the uniqueness of our culture in our wedding. Our first meeting with John showed that he has worked with couples and crowds of diverse cultures. Our wedding video by John justified his ability to fully meet our expectations. Our families loved the videos.
2. Almost Invincible: While recording, John was completely out of the way of people, almost invincible. Yet, he recorded the video at great angles and with awesome voice clarity, capturing lots of details and editing the video to best tell our story.
3. Chapters: The final DVD was made in chapters, telling stories of my wife, myself and our wedding day. Finding specific events in the video is so easy, it makes watching it fun and convenient for everyone. Our families love the videos.
4. Value and Flexibility: John is very easy to work with. He patiently answered all our questions and gave us a package that matched our budget. Even, after the videos were completed and we considered some additional options, he is ready to work with our budget. I will confidently say, John loves what he does and he seems the type who would never compromise the value he can offer."  From 3/8/2014 Wedding
*****
Ying Lu – "We couldn't be more grateful for all John's works on our wedding video during and after the big day.John and his team made it so easy for everybody. He worked with us on the package to meet both our requirements and our budget. They captured and edited all the precious moments very professionally and made all my requests. I will definitely recommend LeniCam!" from 5/17/2014 Wedding
*****
Diana & Ruben  – "John (Owner) is a true professional as he and his crew knew where to be and at what time to be there without being in the way of the ceremony. Also, might I say very punctual in regards to time. From what I've seen his process is simple and effective. He gets to know you way before the big day and really asks for those most special moments you want captured. If this is your first marriage like mine you might not have a clue but no worries, he will guide you like he did to me. Now about the quality… It was outstanding. We had Mariachi in a building where there was a ton of echo and John was able to make it sound flawless. I can't stress this enough, he was great to do business with. No regrets here!!!" from 5/31/2014 Wedding
*****
From Kelly -" We wanted to use a videographer at our wedding so that we could capture every moment of our perfect day. They were easy to work with during the video they made for the mother-son dance, and got back to my mother-in-law very quickly in every email. On the day of the wedding, they were where they needed to be without being in the way. The interviews that they did with the guests made the video extra special for us, because we got to hear from some people that we did not get to spend much time with. After they made the video, we received it and were able to watch it within just a few weeks of the wedding. We were extremely happy with the final product, and the crew was great to work with!" from 12/28/2014 Wedding
*****
From Sue – "I can't say enough great things about John! He was always very professional and very patient with me from the very beginning. No matter how many questions I had or changes I had to make, he was always right there and very accommodating! The quality of his work was outstanding! We were so pleased with the final video and he captured everything during my son's wedding. We were very disappointed in the photographer we chose, so having John there made all the difference. He was even able to produce photographs for me from the video that the photographer missed. I would highly recommend LeniCam Productions to videotape your wedding. He went above and beyond to make the day special!" from 12/28/2014 Wedding
From Amara – "My husband and I used LeniCam for our wedding video. We hired two videographers, and they were able to capture some very unforgettable moments of our very special day! Their work was crisp and excellent! The draft was ready, and they were able to make some minor edits as well, in a reasonable amount of time. We definitely love the highlights and Photo Fun sections of our wedding video! LeniCam Videos – Professionalism, Great Quality, Excellent Service!" from 6/1/2013 Wedding
*****
From Joanna:  "LeniCam did a great job capturing the moments of the best day of my life. They did such a good job that my sister also used them for her wedding in Austin, TX a year later. I suggest that you use more than one videographer if you want more well wishes and different viewpoints, but I was still pleased using only one videographer. I received the "rough draft" of my wedding video in a very timely manner and was able to edit and make adjustments by communicating with LeniCam. I received the final copies of the DVD within 6-8 weeks! The DVD is easy to use and you can jump to certain scenes without having to watch the whole video or fast forward. The highlight video is a great feature that we love to watch. If you want a professional, friendly and timely videographer, go with LeniCam!" from 6/23/2011 Bride
*****
From Randy:"We decided to have a very small church wedding of about 125 of our closest friends and family members. The motto we selected was simple but elegant and we wanted the evening to be a tribute to God, who brought us together. 
Selecting someone to capture our evening on video was going to be a difficult chore as in a previous job I was over our video production unit, which produced a monthly cable television show. Naturally, I was going to be overly selective about who we used for this..
After an exhaustive review of video production companies in the Dallas/Fort Worth area, we narrowed our search to three top notch firms, one of which was LeniCam Productions.
I must say that John at LeniCam, was the most flexible and creative person of all that I dealt with. We had great two-way communication and as a result we were able to modify a package to completely suit our requirements. John was always eager to listen and adjust to our needs.
My fiancee and I, as most couples do, had to juggle our wedding budget on many occasions. At one point, she even asked me to seriously consider eliminating having a video production due to cost overruns in other areas. However, I convinced her to stick with me on this as I felt like she wouldn't regret it. I will highlight just a few of the reasons why this turned out to be a sound decision.
At the church, we found John and his second camera operator and after a brief introduction and getting equipped with a wireless microphone, I hardly noticed either of them for the rest of the evening. If there is anything I could say about the manner in which they operated, it would be as if they were never there. They were the least intrusive element to a very packed evening of events.
The video arrived within the agreed upon time frame as set in our contract and the minute we watched it, there were tears of joy. My wife turned to me and told me that this was the best investment we had made out of the entire wedding. There are just so many special moments that you don't pick up on during a wedding and reception and LeniCam Productions brought them all home to us to relive time and again.
We have watched the video many times and each time we catch something different we didn't see before. The proof video came with a video marker so that we could identify exactly where in the video we wanted changes. I looked and tried to be as critical as I could but just couldn't really find anything that I wanted changed. I must say, that the quality of the production was amazing. Additionally, I had booked a trio of violinists to play contemporary music for the reception and John placed a recorder near them to capture the entire evening's music.He would later put much of the music on the soundtrack of our video. It gave the entire production a nice element of class.
Since I thought I would like to do some selective work of my own on our wedding, LeniCam Productions even allowed me to provide a new hard disk and they downloaded all the audio/video footage from our wedding to use for my own purposes later own. This is just another example of how John caters to his clients.
LeniCam Video Productions commitment to service, quality, and video is outstanding! I highly recommend this company for weddings or any other purpose you may have. Should you book them for a wedding, you won't regret it as the finished product will be something that will truly enrich your marriage for many years to come."
*****
From Kathy:  "I would just like to say that LeniCam Video Productions were very Professional, and a lot of fun. I really didn't remember a lot about my Wedding as I was so incredibly nervous. We paid for and received a Wedding Video from LeniCam and the first time my Husband and I looked at it we both cried our eyes out with "Happiness" it brought back our special day to us, and allowed us to see it as our Guests saw it. We have since reviewed the Video many times over and over and so incredibly special, we notice something new in the video every time we watch it. He has many different menus on the video some are moments that make us laugh, some are moments that make us cry and some are moments that totally leave us in awe. We will refer LeniCam productions to anyone and everyone in the future for Video's for any and all Special Occasions. 
I highly recommend this Company and know with out a shadow of a doubt you will be as pleased and blown away as my Husband and I have been. 
Thank you LeniCam for making our Special Day a lifetime of happiness for us in our years as we grow old together. "
*****
 "BEST VENDOR ON MY WEDDING DAY" ~Gladys:
"It felt good not to have to micromanage at least one of my vendors on my wedding day. LeniCam was that vendor for me. Let John know what is important to you to be captured on your day and it will happen. I barely even knew he and his crew were there, they were so professional and prepared. 
After our wedding my husband and I were surprised by a series of unforeseen events which put our wedding on the back burner for several months. So we had no time to see any video footage or pictures, send thank you cards, even open our gifts! John was so courteous and accommodating with us and gave us as much time as needed to be in a good place to review our video and make all my extremely detailed video editing requests. This alone meant so much to us. 
I would very much recommend LeniCam to everyone.

(My wedding took place in Dallas/Addison TX. I had a church wedding with a separate reception location. Blu-ray Hi def video is available! I very much liked this. Our package came with both Blu-ray and standard Dvd's. I requested a third camera for the ceremony to get the view from our guests perspective and also to capture the great view of our church and us as we left.)"
*****
"AMAZING WORK" ~Byron
"LeniCam completely made our event so special! As any good videographer, he guided us through each shot as we did our traditional poses. But, what really sets LeniCam apart is what we didn't expect. We had a whole series of shots that he just invented to include the beauty of our wedding location. He took us around the property – posing us all over for some amazing shots incorporating all of the natural beauty. And, when we got the DVDs to review – we were just so happily surprised. There were so many shots where we exclaimed – "Wow – I never even saw him standing over there". While we were focusing on enjoying the time – we completely trusted LeniCam to handle every detail and we were absolutely overwhelmed."
*****
"GREAT VIDEOGRAPHER" ~ Amanda & Charbel:
"John LeniCam did a great job for our videography needs. From the moment of our first meeting he took the time to explain show and understand our needs and the day of our wedding he was punctual and on time as well as professional in everything he did for us. I strongly recommend him."
*****
"EXCELLENT JOB!" ~Dodson
"LeniCam Productions did an excellent job capturing every moment of our daugther's wedding day. From the moment we entered the church until the reception ended 9 hours later everything was beautifully captured on film. John and his wife Sue are both extremely professional and know their craft. They work in the background and are not intrusive in any way. The quality of their work is beautiful and their prices are reasonable. I would highly recommend LeniCam Productions and will certainly use them in the future."
*****
Anonymous Reviews
"GREAT JOB WILL RECOMMEND TO OTHERS – we had a great experience with john at lenicam, he was always on time and shoot great footage, i liked that he came to the rehearsal dinner too, he also has good equipment, i like his remote controlled camera that we used in the church, you can trust john to take care of your wedding video needs"
"Friendly, professional videographer. Loved the personalized service when it came to editing our video. We worked together with the owner and the finished video was excellent."
"Superb! My husband and I used LeniCam for our wedding video. We hired two videographers, and they were able to capture some very unforgettable moments of our very special day! Their work was crisp and excellent! The draft was ready, and they were able to make some minor edits as well, in a reasonable amount of time. We definitely love the highlights and Photo Fun sections of our wedding video! LeniCam Videos – Professionalism, Great Quality, Excellent Service!"
"Great Job – John was amazing and extremely responsive with my millions of questions I had leading up to the wedding. The value is amazing! I did not find another videographer who could do as good of a job without completely destroying our budget. While the final product was not exactly on the same level (artistically speaking) as some other videographer's I have seen, we got exactly what we wanted. Great footage and sounds of the day for a very affordable price. I would recommend having a videographer for the day and this is an affordable company that really cares about making the couple happy."
"We just wanted to say a huge thank you to lenicam video productions for doing an outstanding job for doing out wedding video we couldn't of picked a better person to do it. To the highlight video to the full 3 hour blue ray DVD we got its truly amazing to watch the wedding video. Also you did an awesome job in not getting in the way we barely knew you were video taping which was a big plus but we are so happy you got all the special dances and the well wishes is such a great add on from all our guest we really appreciate the all hard work you did to make our wedding video and thanks again if your getting married definitely go with them it's worth the little extra money because you will look back at it so many times and your wedding goes by do fast. It's the one thing you will have forever re live your wedding day"
"Beautiful Video!! Would use them again."
"Mother of the Bride – John and his partner did a wonderful job of recording all the events on the day of my daughters wedding. They were very professional the finished product was great. I would recomend them to anyone wanting a great rememberance of their special day."
"Satisfied – Great people to work with..very understandable and easygoing..captured perfect special moments."
"Wonderful service!!!! They were very professional! Very pleased with the quality and results of the videos!!!! Highly recommended!!!!" 
"Great Experience – John Lenihan was very prompt, professional, and friendly. I was very pleased with the quality of my wedding video! He captured the event beautifully."
"Maid of Honor – I was very pleased with my sister's choice of this videographer. I am not from the Dallas area but tried to help my sister with planning/researching vendors as best I could. I think her (our) choice of videographer was one of the ones I was happiest with. Knowing my sister's attention to detail, I felt confident that Mr. Lenihan was capturing every special moment..even ones that we may have missed! I would highy recommend this company if you are in the Dallas/Ft. Worth area…"
"Best Way to Remember the Day – by far one of the best investments we made to capture all our memories on our wedding day! LeniCam Video Productions is BEST OF THE BEST in my opinion and I will use them again for other special events. My husband and I ordered extra DVD's and gave them as Thank You Gifts to family and friends: all of them couldn't stop talking about the quality! I would recommend to any bride or to those who want to get the Bride/Groom a special gift! Worth every penny!!!!!"
"Great Videographer and Editor – John is friendly and easy to work with. Not to mention, he is an amazing videographer and a great editor. He captured all of the great moments and edited them together to tell the story our wedding. When we saw our special day on Blu Ray we were blown away by the video and audio quality. We can't thank him enough!"
Check out our REVIEWS on The Knot!
LeniCam Video Productions – The Knot Reviews